Truck Tire Blowouts/Tread Separation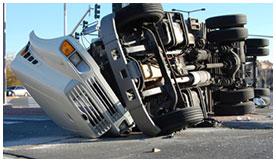 San Antonio personal injury lawyer representing victims injured by defective tires
When tire failure occurs and a blowout follows, it can cause a serious accident even when only passenger cars are involved. When a blowout occurs on the tire of a big rig, semi, 18-wheeler or other large, heavy truck, the resulting accident and injuries can be catastrophic or even fatal.
When accidents are caused by tires, The Bates Law Firm works diligently to determine who the liable parties are and hold them responsible for compensating accident victims in San Antonio and throughout South Texas. We collaborate with scientific experts and accident reconstruction specialists to determine whether the accident was caused by a manufacturing defect, by trucking company or employee negligence, or by other conditions.
Manufacturer defects and tire tread separation of defective tires
A tire can be defective for many reasons, such as failure to stand up to heat generated during driving or poor traction due to poor design or a problem in the manufacturing process. The most common tire defect, and the one that most typically causes an 18-wheeler accident, is poor treadwear and tread separation.
When accidents are caused by defective auto parts, our lawyer vigorously pursues the manufacturers and their insurers for negligence, breach of warranty or strict product liability. As a board-certified personal injury attorney, Harry Bates has the resources, skills and long-term commitment to help clients obtain verdicts or settlements compensating for injuries and losses.
Negligent tire use and maintenance
While most tread separation accidents are due to manufacturer's defects, negligent use or maintenance can also cause semi-truck tire blowout. As an experienced personal injury attorney, Harry Bates represents victims of accidents caused by tire tread separation and blowouts due to all types of negligence by trucking companies and their employees:
Tire over-inflation
Overloaded trucks
Retreading old tires
Failure to inspect tires

Careless driving, including driving over rough roads or potholes at high speeds
Incorrect flat tire repair
Excessive tire wear due to extended use
Because new tires for large commercial trucks are so expensive, trucking companies may attempt to retread or recap tires to stretch out their use. However, retreaded tires are prone to failure and may cause tractor-trailer accidents that could have been prevented with the use of new tires.
San Antonio attorney representing the injured for more than 25 years
At The Bates Law Firm, we assist the victims of accidents caused by defective tires in develop a strategy which may recover compensation for medical bills, lost wages, rehabilitation, pain and suffering, emotional distress and other harm. To learn more about our services, contact us online or call 210-226-3777, toll free at 877-716-3777 today for a free consultation.