Medical Malpractice & Negligence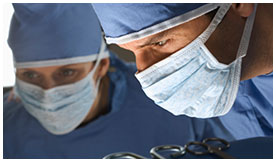 Medical mistakes kill and injure thousands of people a year. Medical malpractice occurs when a medical provider, whether a doctor, nurse, pharmacist, or other health care professional, acts in a manner that deviates from the accepted standard of care. The Bates Law Firm in represents injury victims and their families whose medical provider has breached the standard of care in diagnosing or treating a medical condition. San Antonio medical malpractice attorney Harry S. Bates handles cases involving virtually any type of medical negligence, including the following:
Anesthesia errors
Birth injuries and cerebral palsy
Brain injuries
Emergency room errors
Failure to diagnose cancer
Medication errors

Misdiagnosis or late diagnosis
Obstetrical and gynecological malpractice
Prescription errors
Spinal cord injuries
Surgical errors
Nursing home abuse
Suffering injury due to medical treatment does not automatically justify a medical malpractice lawsuit. While the law expects all medical practitioners to provide an accepted standard of care for their patients, even the best care does not guarantee successful treatment. The Medical Liability and Insurance Improvement Act (MLIIA) established by the Texas legislature in 1977 and revised in 2003 establishes certain requirements that claimants must follow in filing medical malpractice claims. Some key provisions are as follows:
Plaintiffs must generally file claims within two years from the date of injury, unless the victim was a minor at the time of injury
Plaintiffs typically have 120 days to serve defendants with expert reports
Plaintiffs must provide written notice of claims by certified mail to each accused medical service provider
Plaintiffs must generally provide expert testimony in support of their cases
Texas law caps the value of certain types of damages, including wrongful death and noneconomic damages
San Antonio medical malpractice attorney Harry S. Bates has over two decades of experience helping victims of medical negligence pursue compensation for their injuries. He has a network of medical experts available to help meet the requirements of Texas law and develop effective cases on behalf of his clients.
Contact us for a free initial consultation
If you have questions or concerns about medical malpractice or medical negligence, call San Antonio lawyer Harry S. Bates at 210-226-3777, toll free at 877-716-3777, or contact us online.