Birth Injuries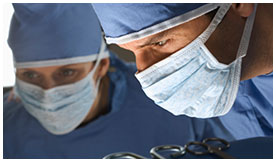 Attorney for injuries during childbirth to mother and newborn
Despite all our advances in medical technology, child birthing can still be a complex medical procedure. Many things can go wrong and newborns are especially fragile and susceptible to injury. While most obstetricians are aware of these dangers and take appropriate steps to minimize them, mistakes still do occur. These mistakes have a high potential to cause harm to both mother and child.
If your child suffered injury during childbirth, you may have a long road ahead. Birth injuries can have long-term repercussions, some lasting an entire lifetime. The immediate effects of these injuries are readily apparent through the mental anguish and medical bills they generate. But such injuries and the long-term disabilities they engender can continue to produce expenses for years to come. In light of this, it is crucial to ensure financial security for both you and your child by contacting a birth injury lawyer at The Bates Law Firm in San Antonio.
Types of birth injuries
There are various types of birth injuries of varying severity. Some may improve or even dissipate over time. Others may remain for the entire life of your child. In addition to the dangers present in any medical procedure, newborns are particularly vulnerable to nerve and brain injuries during the birthing process. Oxygen deprivation or improper manipulation of the arms, neck, or head of a child can give rise to a number of disabling conditions:
Paralysis
Brain damage
Fractures
Cerebral palsy

Klumpke paralysis
Horner syndrome
Erb's palsy
Any one of these conditions can have a severe and adverse impact on the quality of life for your child and necessitate a lifetime of care.
If you recently learned your child developed a condition because of medical mistakes during childbirth, you probably have a lot on your mind. And legal action may not be high on your list of priorities. Money cannot restore everything you and your child lost. But receiving compensation for the injuries your child sustained can help you give them the best quality of life possible. A medical malpractice lawyer can help you recover compensation for medical bills, lost wages, and other intangible losses such as pain and suffering. This money can help you finance treatment for your child, purchase assistive devices, and take other steps to give your child the best life possible in spite of his or her disability.
Contact an experienced Texas birth injury lawyer today
San Antonio birth injury attorneys like Harry Bates of The Bates Law Firm know the complexities of birth injury litigation. We understand the challenges that parents of children with disabilities can face. And we use our experience and skill to aggressively advocate on behalf of our clients. Call our office at 210-226-3777, toll free at 877-716-3777, or contact us online for a free consultation.