San Antonio Jackknife Truck Accidents Attorney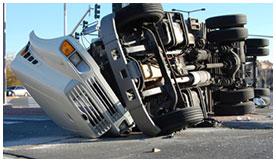 The term "jackknife" accident refers to the pivoting of a tractor-trailer where it joins with the cab of the truck, as if it were a jackknife opening and closing. Many different circumstances can lead to a jackknife truck accident — one of the most dangerous occurrences in traffic. Rainy road surfaces are just one cause of jackknife truck accidents. Tires with worn treads are another, when they cause a truck to lose traction. Brakes failing while going down a hill can also trigger a jackknife truck accident. Unstable loads can throw a truck off balance, contributing to a jackknife crash.
A jackknife truck accident on a highway very often creates an instant death trap for other vehicles travelling at speeds between 50 and 70 miles per hour. Broadside crashes of cars against the side of a truck's trailer stretched across the roadway inevitably cause catastrophic injuries or fatalities.
The challenge, if you have been seriously injured or if your loved one has been killed in a jackknife truck accident, is to prove that a truck driver was somehow negligent. Excessive speed or failure to inspect a truck's load before setting out on a trip are two examples of a truck driver's error that can lead to jackknifing, putting others at risk.
Contact A San Antonio And Laredo Truck Injury Lawyer
San Antonio jackknife truck accidents lawyer Harry S. Bates represents those seriously injured and families of those wrongfully killed in jackknife trucking accidents. Please call us at 210-226-3777, toll free at 877-716-3777 or fill out our online contact form to set up a free initial consultation and case evaluation. Our attorney welcomes the opportunity to explain how we can develop a strategy which may result in a fair settlement needed after a serious trucking accident. Se habla español.