San Antonio Distracted Truck Driving Accidents Attorney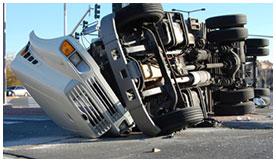 Technology has made the jobs of truck drivers easier. However, with the advent of computers, smartphones and other devices also create dangerous distractions. Paying more attention to talking or texting on a cellphone than on operating a truck can have catastrophic consequences.
When an 18-wheeler collides with a car, the driver of the automobile runs a greater risk of suffering serious, even fatal injuries. In cases involving serious injury, losses are overwhelming. In claims involving wrongful death, losses are insurmountable.
The Deadly Dangers From Distracted Truck Drivers
From the moment we take on a truck driving accident case at The Bates Law Firm, we focus on maximizing compensation. Every strategy our attorneys employ is to assess the extent of the losses and secure money to cover expenses involving:
Emergency medical care
Ongoing therapy and treatment
Rehabilitation
Disability accommodations
Loss of income
Time is of the essence in the hours and days following a tractor-trailer accident. Investigations must be immediate to identify the cause of the accident. If distracted driving caused a rear-end collision or jackknife truck accident, we attend to every detail in securing data from the computer, smartphone or other technology in the cab of the truck.
Motor vehicle accident claims involving a commercial truck present challenges. Even with the best of insurance policies, accident victims need an advocate to speak for them before making statements or signing documents. Dealing with insurance companies directly can not only compromise the strongest of cases but also reduce the compensation that injured victims and grieving family members are entitled to.
Contact A San Antonio Distracted Truck Driving Accidents Lawyer
For more information, schedule a free initial consultation and case evaluation by calling 210-226-3777, toll free at 877-716-3777 or filling out our online contact form. Se habla español.