San Antonio Truck Driver Negligence Attorney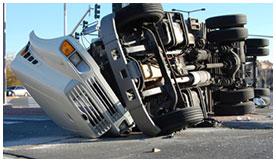 Negligence in a truck driving accident can take many forms, but the outcome is the same: serious injuries and death suffered by fellow motorists who were at the wrong place at the wrong time.
Truck drivers must adhere to a variety of federal mandates that govern time on the road and rest breaks. Laws exist to protect them and other drivers. Pressure from employers to be more "efficient" and other types of shortcuts compromise safety and create potentially deadly situations on Texas roads.
How Negligence Can Change The Lives Of South Texas Residents
At The Bates Law Firm, our attorneys represent injured South Texas residents and those grieving the death of a loved one killed in a truck accident caused by:
Driver fatigue from driving too many hours without rest
Alcohol and drug use, including over-the-counter medications
Poor truck maintenance, specifically brakes
Insufficient inspections of vehicles, specifically tire treads
Poor driver performance due to lack of experience and proper training
Vehicle design and manufacturing defects
Overloaded vehicles
While our clients seek medical care or grieve the loss of a family member, we attend to every detail of their legal claim. Truck accidents are initially violent and result in long-term trauma. With the help of experts, we build strong claims to maximize the recovery of damages.
The sooner accident victims speak to us before speaking to an insurance adjuster, the sooner we can get to work in holding negligent parties accountable.
Contact A San Antonio Truck Driver Negligence Lawyer
For a free consultation and in-depth case evaluation, please contact The Bates Law Firm at 210-226-3777, toll free at 877-716-3777 or fill out our intake form. Se habla español.