Industrial Accidents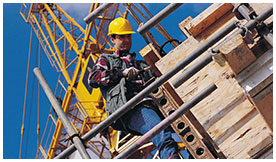 Develop a strategy which may result in a fair settlement for industrial injuries through workers compensation and personal injury litigation
More than 4,609 workers were killed on the job in 2011, almost 90 people a week or nearly 13 deaths each day, according to OSHA. Industrial occupations - including construction, work in oilfields and refineries and maritime work - are the most dangerous occupations and the most likely to result in serious or deadly accidents.
At The Bates Law Firm, our San Antonio lawyer has more than 25 years of experience assisting accident victims in recovering compensation for injuries and losses sustained in industrial accidents. Using his skill as a Texas board-certified personal injury attorney, Harry Bates fully evaluates your claim to develop a strategy which may result in a fair settlement through workers compensation or personal injury litigation.
Types of Texas industrial accidents
Our highly experienced lawyer is fully dedicated to assisting injured victims and families who have lost loved ones in a broad range of industrial accidents, ranging from chemical exposure to falls to electrocutions:
Construction site injuries
Oil rig, drilling and refinery accidents
Chemical exposure
Hazardous material exposure
Radiation exposure
Scaffolding collapse
Falls from heights

Defective machinery and tools
Heavy equipment accidents
Power tool injuries
Electrocutions
Fires and explosions
Scaffolding collapse
Oil refinery accidents
With chemicals, toxic gases, heights, heavy equipment and the high incidence of fires and explosions, oil refineries are some of the most dangerous industrial workplaces. Refinery explosions in particular have caused some of the most catastrophic accidents. Whether an accident is caused by employee or employer negligence, safety violations, defective equipment or improper maintenance, our lawyer works hard to get victims the compensation they need for oil industry injuries. To learn more, please see our page on oil field accidents.
Types of injuries
Because of heavy machinery and power tools, heights, dangerous materials and chemicals, industrial accidents frequently result in catastrophic injuries or the wrongful death of victims. At The Bates Law Firm, we develop a strategy which may result in a fair settlement for a full range of industrial injuries:
Severe burns
Toxic chemical and exposure injuries
Crush injuries and loss of limb use
Amputation and disfigurement
Internal organ injuries
Traumatic brain injury

Spinal cord, back and neck injuries
Paralysis
Repetitive motion injuries
Loss of senses
Wrongful death
Contact a personal injury lawyer in San Antonio with the experience to get results
If you have questions or concerns about injuries suffered at an industrial factory or manufacturing plant or in any other type of industrial setting, please contact our attorney at The Bates Firm. As a Texas Super Lawyer in 2006, 2009-2017 by Thomson Reuters, Harry Bates has recovered verdicts and settlements for our clients in San Antonio and throughout South Texas. To schedule a free initial consultation in English or Spanish, or for 24/7 emergency service, contact us online or call 210-226-3777, toll free at 877-716-3777.